Waffle Mixes
Posted on Feb 13th 2020
---
---
The Malted Waffle Company Waffle Mixes.
---
Wondering which of our many waffle mixes are suitable for you and your needs? We've put together a handy guide for you to decide between them.
---
We've been very busy at TMWC HQ to create as many waffle mixes as we can to suit all our customers wants and needs. Although the world of waffles seems dimply simple, it's much more complex than you might think. There are so many variations of the sweet (and savoury) treat!
You may wonder, which of these types of waffle will suit my menu? Well, we have dedicated generations of our family to perfecting our signature recipe. Once we got that pretty much nailed (*cough* perfect *cough*), we decided to tackle some of the problems we had been faced with. Like, ease of use, dietary requirements and economical costing.

We have NINE different types of flour that we currently sell. However, we love that all our customers are unique. So, we work very closely with establishments to ensure that any tweaks they may want to ingredients can be accommodated. Our manufacturing site is accredited to the highest levels. So, we know you're getting the best.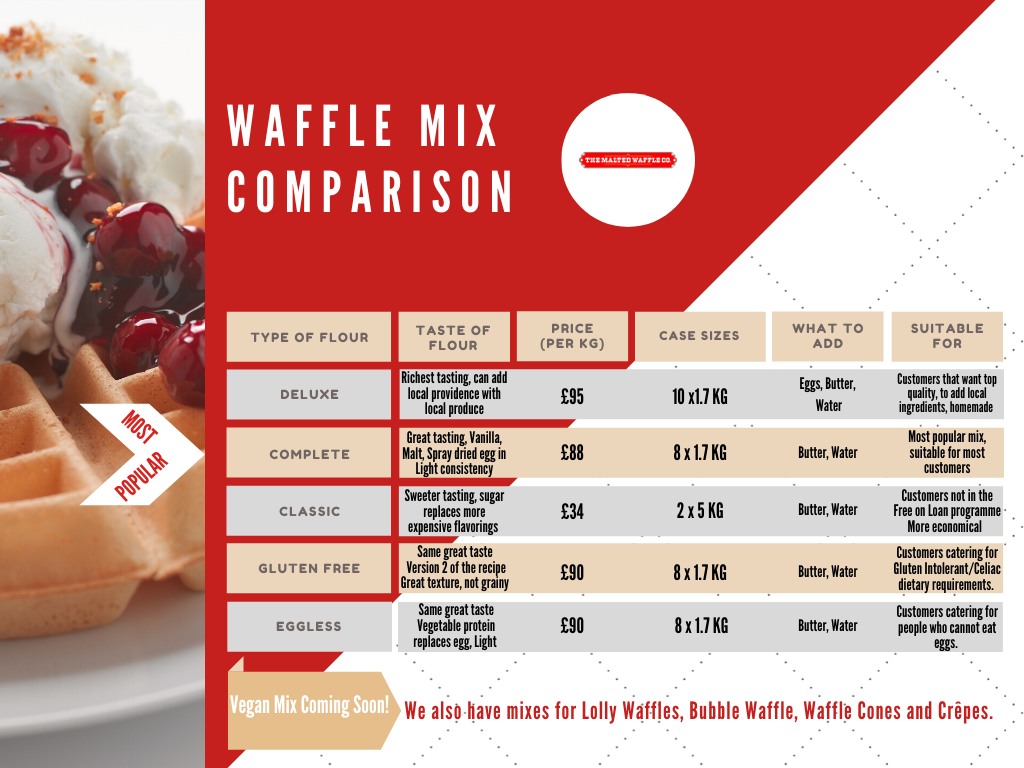 ---
What flours do we sell?
The Deluxe mix tried and tested for over 30 years.
Some things just get better with age and our Deluxe mix is not an exception to that. Our family have been committed to making this our cornerstone product since our business started in 1986. This mix is rich in flavour and needs eggs, butter and water to make. This allows those types of customers who enjoy making everything in house feel as though it is more homemade. Also, allowing local providence within the fresh ingredients used.
Our Complete mix is our most popular waffle mix.
The complete mix is our easiest mix to use. This mix has the egg already added. The pasteurised whole hen egg is spray dried into a powder. This is then blended into the Deluxe mix. It is the same delicious, rich flavour as our deluxe but with the added ease of just being able to add water and butter. This probably is the reason why our complete mix is the most popular with our customers and top seller.
The Classic mix is our latest announcement and the most economical mix yet.
Our lowest priced waffle mix is the Classic mix, and one of the cheapest on the market. We don't want you to have to compromise on great taste or quality. So, we've tried to adhere to our original recipe as much as possible, with a few sweet tweaks, to get you more waffle for your wad. When we launched this product in December 2019 it was a hit straight away. Take a look at our infographic blog here where we describe it in more detail, and explain how to switch from our Free On Loan programme.
The Gluten Free mix was adapted for celiac and gluten intolerant people.
This flour is close to our hearts as one of our family became gluten intolerant. The flour was developed and tested by our very own. Rice flour replaces the wheat flour gluten. It still has a great taste and texture. Without the grainy-ness that some gluten free products have. This is version 2 of our gluten free flour, which developed further after feedback. The new and improved mix launched summer 2019 and has become a replacement for the complete mix in some establishments. This is because it has such a good hold and structure it allows kitchens to use one product for multiple dietary needs.
Our Eggless waffle mix for customers who don't eat eggs.
The eggless mix is what it says on the bag. The egg is removed and replaced by a vegetable protein. This product is for customers who don't eat egg for religious reasons or dietary reasons. We created this product with this demographic in mind. Again, this has a great flavour and allows for a light consistency.
Our other mixes and flours available
We have other mixes available too. Don't just draw the line at traditional waffles. We have, Lolly Waffles, Bubble Waffle, Waffle cones and Crêpes.
Lolly Waffle Mixes
The Lolly Waffle or Waffle on A Stick, is a denser mix which is cakier in its consistency. This mix is very popular for kiosks that want an on-the-go option. We love the Lolly Waffles; they make us wish we were at a fun fair or walking along the sea-front! And, sticks are included!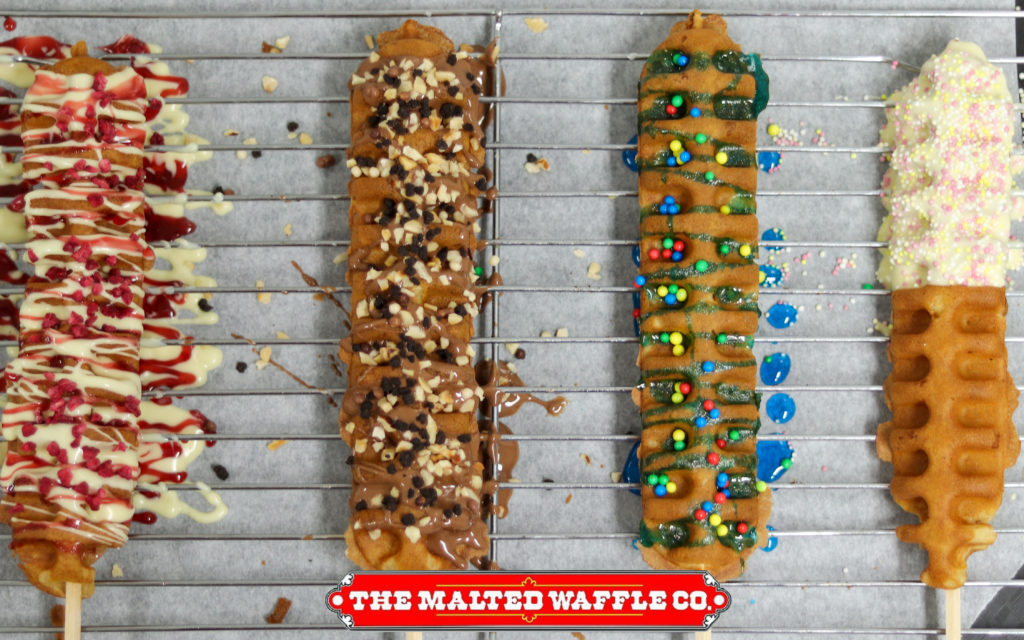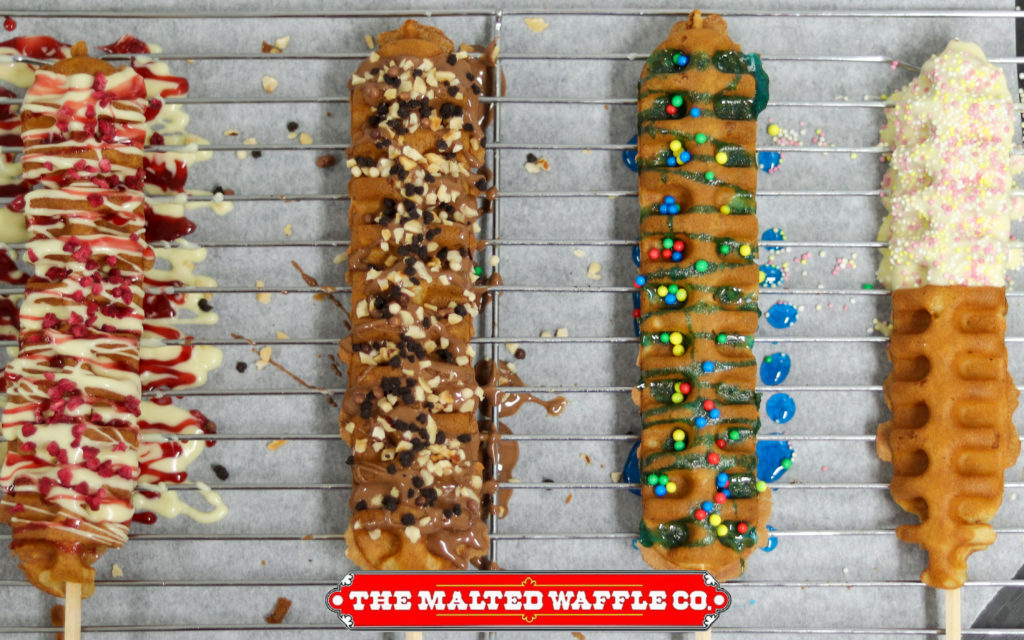 Bubble Waffle Mixes
The Bubble Waffle is relatively new in concept and originated in east Asia. The design of the pocketed waffle is sweet and serves as a great holder for all types of toppings and fillings. But, the consistency of the flour is a careful science combining some of our existing flours together to create the sweet goodness.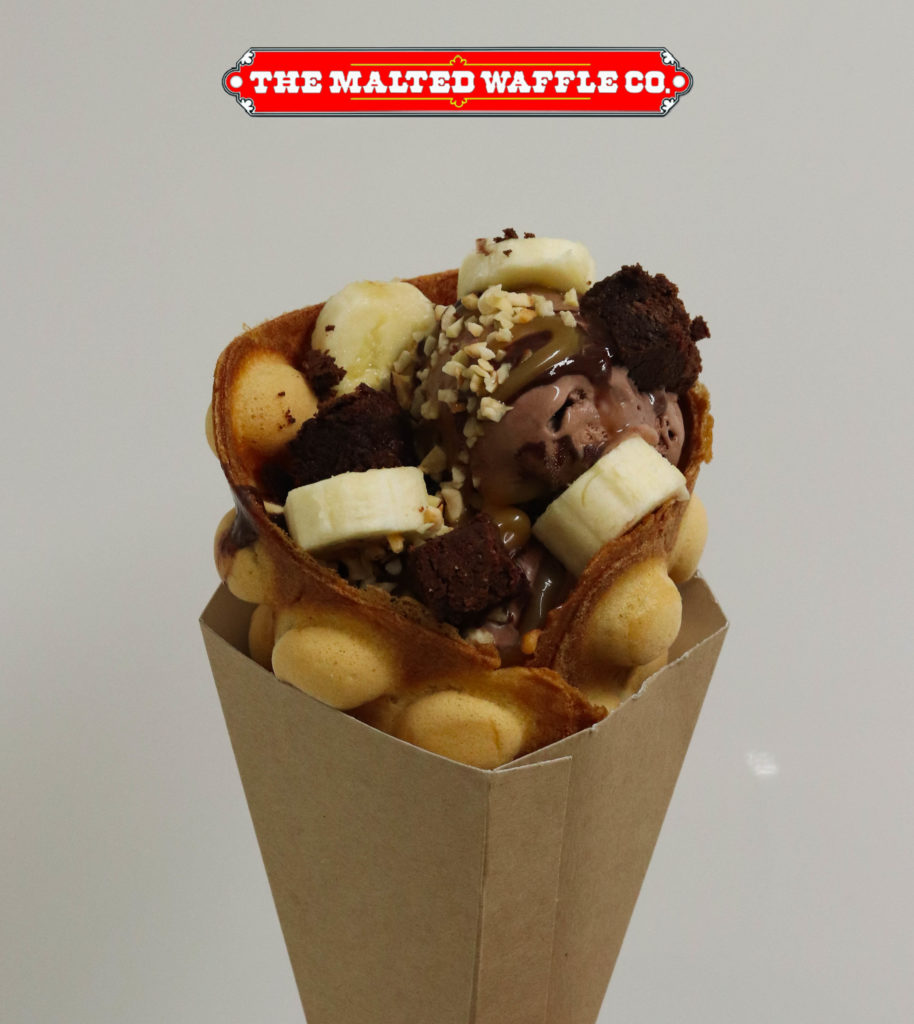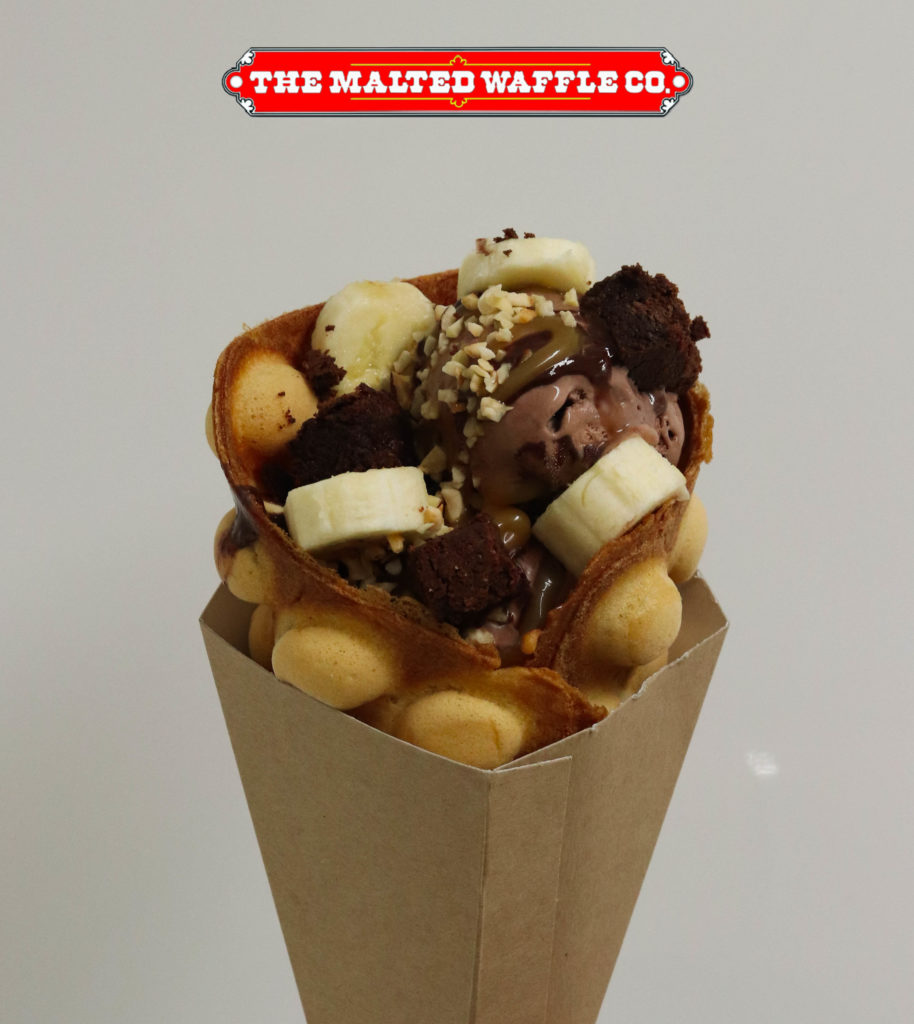 Waffle Cone
The Waffle Cone is a staple in every ice cream and gelato shop in the world. This rigid, sweet, biscuit like pancake is rolled when hot and cooled into the desired shape. Don't be constricted by thinking they only make cones, tacos and bowls are common shapes to hold food as well. There is more sugar in this mix which allows for the biscuit-y consistency.
Crêpes Mixes
The Crêpe flour is a classic and makes the large, thin pancake which can be folded and filled with whatever filling. This flour is made to be thinner than our waffle mixes which can also be used to make thick, fluffy American style pancakes. Because typically Crêpes are thin and delicate, so this allows for it to be spread thinly on to the Crêpe machine to be cooked quickly and evenly.
Hopefully, our guide has helped you decide which waffle is suitable for your wants and needs. Take a look at our online shop to purchase your waffle mixes.
---
.
.